Meditation can be a daunting prospect when you're a beginner – I totally get it, I've been there. But the great thing about a meditation practice is that it gets easier and will come more naturally with time. When I first attempted to meditate I was clueless and I found the whole process more frustrating than it was relaxing. Fast forward to now and I can close my eyes and take myself into a meditative state whenever I want with little to no effort. If you want to start a practice but don't know where to begin, try implementing the following beginners meditation guide and you'll get there in no time!
This post contains affiliate links. If you decide to make a purchase through one of these links, I will earn a small commission at no extra cost to you. I do not promote anything I do not wholeheartedly believe in or stand behind. You can click here to read my full affiliate disclosure. 
Related: 28 Unique Meditation Gifts for Mindfulness
Stop making excuses and make time instead
Motivation can play a big part in starting a new habit. Us humans are great at finding excuses (I'm guilty myself) but what purpose does this serve? The most common (and worst) excuse is "I don't have time to meditate", but I'm gonna shoot that down right away. If you have time to scroll through social media or read this blog post then you definitely have time to meditate! The great thing about meditation is that it can calm your mind in a way that can actually improve your productivity. So there really is no excuse not to spare a tiny segment of your day to this practice.
I've also seen a lot of people querying when the best time to meditate is, and there is no real answer to this. Some people find that meditating in the morning can kickstart your day on a calm and positive note, while others feel that meditating last thing at night can help you to unwind and relax before bed. Don't get too caught up in when you should meditate, just make sure your make the time. As time goes on you might even find yourself meditating multiple times a day!
Get comfortable
One thing that I must stress is that you're going to want to be comfortable during your practice. I would recommend making a small investment in a meditation cushion to take the pressure off of your nerves and joints if you are sitting on the floor. There are tons of affordable ones on Amazon so it shouldn't set you back too much. If you'd rather not purchase one then you can always use a cushion you already have at home or fold up a pillow for added comfort!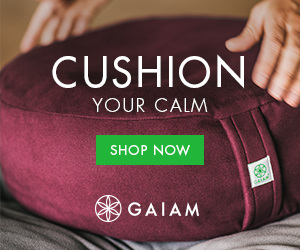 There are several different meditation positions that are recommended in religious practice (check out the ebook to learn more) and no one posture is the correct one. Remember you're sitting for an extended period of time so don't force yourself into an uncomfortable position just because it looks the part! I tend to sit in a standard crossed legged position because my hips aren't open enough for some of the other postures. Sitting on a chair is completely fine too!
Listen to binaural beats
If I had to pick one tip that solidified my meditation practice, it would be this one. Binaural beats provide two different sounds to each of your ears (you need to listen with headphones), which cause your brain to tune to a certain frequency. By listening to theta wave binaural beats, the frequency associated with a deep meditative state, you can take yourself into that state with little effort. This article talks about how binaural beats can be a great shortcut in your meditation practice.
Before I tried binaural beats I had never entered a meditative state before and would just sorta sit there wondering what the meditation hype was all about. When I used theta waves for the first time I was blown away. I quite literally felt like I was floating. Although I no longer listen to binaural beats (I prefer other types of meditation music), this process allowed me to access a state of meditation that I can now access on my own.
Set a timer
When you're first starting a meditation practice, it's unrealistic to expect yourself to sit for 30 minutes without feeling bored. In the same way that you train your body for a marathon, you need to train your mind for meditation. Start by setting a timer for 5 minutes. Each time you meditate you can increase the time until you can meditate for longer periods with ease. The free 30 day challenge tracker included in my eBook is designed to help you increase the time you can sit and meditate for!
In the same way that you train your body for a marathon, you need to train your mind for meditation.
Click To Tweet
Start with a guided meditation
Guided meditation can be another great tool at allowing you to access a state of meditation when you're new to the practice. Having another person's voice to guide you through different techniques can be so helpful when you don't know what you're doing. Try listening to the same guided meditation on separate occasions and you should eventually be able to practice that meditation without the guidance. I would recommend finding a meditation where the teacher has a voice you find soothing. If you're anything like me then certain voices can become distracting (and annoying!)
Tune into your breath
You probably have heard that tuning into your breath is an important factor in meditation. But how should you breathe while meditating? For me personally, inhaling and exhaling through my nose only (mouth closed) is essential to relaxing in meditation. You should breathe deeply, but not try to control your breath too much. Instead bring your awareness to it without attachment. For instance you could count your in-breath and out-breath, or bring your attention to the rise and fall of your stomach as you breath. Awareness of the breath is probably the least effortful way to be in the present moment. Breathing is essential after all!
Let your thoughts pass
One of the biggest misconceptions people have about meditation is that it is about not having thoughts. This can also be a big factor that puts people off of starting a meditation practice. The irony here is that the more you try NOT to think, the more you think. Am I right? That's why one of my tips here is not to try and fight thoughts. Instead, acknowledge any thoughts you have and let them pass. Don't hold any judgment about what should be going on in your mind, just let it be. At the same time, don't get sucked up in your thoughts either. If you find yourself getting distracted then gently bring your awareness back to your breath to return to the present moment.
I hope that this beginner's meditation guide has given you some useful tips to start your own practice!
Let me know if you implement any of them; I'd love to hear your thoughts about the eBook and your challenge results!
Happy meditating.
Esther x